This page is dedicated to all the Dachshunds I have bred that have won awards, be it serious or fun!

All Dachshunds are Champions at Heart!!!

Please send me any pictures of my pups that have won awards you would like published on my site. Please send a brief discription.

Garlin's Autumn Trade Winds MS

This is my Auggie, he has been shown briefly and has alway done well. He won his class at this show in Alabama.  I just wish he didn't like the bait and fingers so much!

Owner Linda LaClair, Georgia

This is Bear winning at a Benefit Fun Show in Washington D.C. Bear won Least Obedient and First runner up in Best in Show. Way to go Bear!

Owner Jennifer Hinchey from Washington, D.C.

Garlin's Chief Running Bear ML

Garlin's -MKS Logical Logan ML

This is Logan winning her first major, Best of Opposite Sex at 7 months. She also won Winners Bitch at this show. Congratulations to  Kyle and Logan!

Owner Kyle Sammons from Indiana .

This is DIgger winning his  International Championship. He is now competing for his AKC Championship and we hope he does as well.

What a guy!

Owner  Beverly Golubosky from Fayetteville, N.C..

Garlin Kennel

Mini Dachshunds Of Distinction

Linda LaClair

Loganville, Georgia 

This page was last updated on: February 11, 2015
Logan and Kyle do it again!

This is Milka doing agility jumps at a

NADAC trial last November up in Youngsville, North Carolina.

Her full name is now:

Garlin's Carolina Milka Way NA, OAP, NAJ, OJP, NAC

Owner Margi Baldwin Moore

Florence, South Carolina

Garlin's Carolina Milka Way

WOW !!!

How impressive is that!

      Things I must remember -- to be a good dog

1.  I will not eat the cats' food before they eat it or after

    they throw it up.

2.  I will not roll on dead seagulls, fish, crabs, etc., just

    because I like the way they smell.

3.  I will not munch on "leftovers" in the kitty litter box,

    although they are tasty.

4.  The diaper pail is not a cookie jar.

5.  The sofa is not a 'face towel,' neither are Mom and Dad's laps.

6.  The garbage collector is not stealing our stuff.

7.  My head does not belong in the refrigerator.

8.  I will not bite the officer's hand when he reaches in for

    Mom's driver's license and registration.

9.  I will not play tug-of-war with Dad's underwear when he's

    on the toilet.

10. Sticking my nose into someone's crotch is an unacceptable

     way of saying "hello".

11. I don't need to suddenly stand straight up when I'm under

     the coffee table.

12. I must shake the rainwater out of my fur before entering

     the house - not after.

13. I will not throw up in the car.

14. I will not come in from outside and immediately drag my butt.

15. I will not sit in the middle of the living room and lick

     my crotch when we have company.

16. The cat is not a 'squeaky toy' so when I play with him and

     he makes that noise, it's usually not a good thing.

     No Promises but I will try to be a good dog!

AApril 15, 2007! This is Ti's first win, and 

gives him 2 points towards his AKC Championship

June 21, 2008 Titan had Titan's first Major win and a very kind comment from the judge...

Winner's Dog at the  Steel City DogClub Show

Sunday,April 13, 2008.

Titan is owned by Joanne D. Wolff  of Von Wolff Kennels  in Indiana

This is Ohana and her owners graduating Puppy Class.

Owner  Ute from  Suffolk, VA.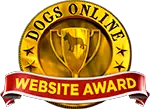 Dogs